What is Perception Neuron 3?
PN3 is the world's smallest wireless motion capture system in the market. The Perception Neuron 3 is part of the Perception Neuron product line that includes Perception Neuron 32, Perception Neuron Pro and Perception Neuron Studio motion capture systems.
Will Perception Neuron 3 and other Perception Neuron products work in one software?
No. They each utilize a different software.
What is the Perception Neuron 3 Glove sizing?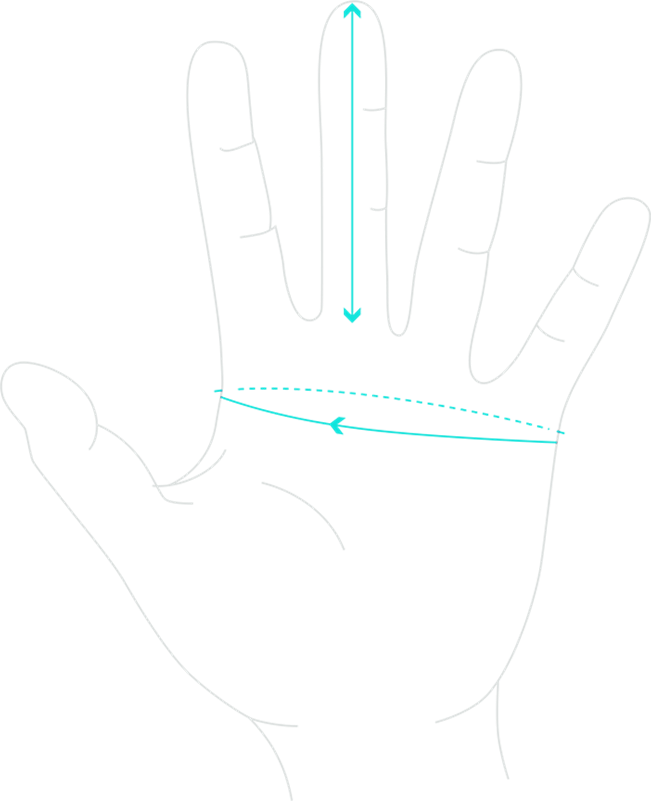 | | |
| --- | --- |
| Palm Circumference | Measure around the hand at the fullest part (exclude thumb). |
| Middle Finger Length | Measure from the tip of the middle finger to the base of middle finger. |
| | | | |
| --- | --- | --- | --- |
| Size | S | M | L |
| Palm | 16 - 19 cm | 19 - 22 cm | 22 - 25 cm |
| MidFinger | 6.5 - 7.5 cm | 7.5 - 8.5 cm | 8.5-8.5 cm |
The size is for reference only. The margin of error of the elastic fabric is about 1-3 mm or 0.04-0.12 in.
The actual size can vary from person to person.
Can the PN3 use the PN Studio gloves?
No. They utilize different gloves.
Can the PN Pro use the PN3 gloves?
No. The PN Pro does not support finger capture.
Can PN3 and PN Studio be used in a single software?
No, although they both use Axis Studio Software, both systems cannot be used at the same time.
What are the differences between PN3 and other PN Products?
The PN3 system has a 3-sensor finger hand capture, while PN Studio provides a full five-sensor finger hand capture.
PN3 caps at 60 fps capture while the PN Studio is able to track fast movements at up to 240 fps.
While the PN3 utilizes a single transceiver, the PN Studio transceiver can add a wider range of coverage by chaining multiple transceivers together.
PN3 can track 3 performers simultaneously while the PN Studio can track up to 5.
The PN3 and the PN Studio have a relatively similar battery life.
PN3 has a modular dock. The PN Studio and the PN Pro have a charging case.
PN3 has a new comfortable and secure strap system that is wider than PN Studio and PN Pro.
the PN3 is wireless, PN32 is not. The PN Pro and the PN Studio are wireless as well.
The PN3 and the PN Studio have optional finger capture gloves, the PN Pro does not
Are there PN3 Academic discounts?
Yes: Academic | Perception Neuron Motion Capture (neuronmocap.com)
Can you buy an extra sensor to have a full handset for the PN3?
No, PN3 has a total of 3 total sensors in each glove.
How many performers can I capture?
Axis Studio supports up to 3 PN3 suits at once.
Do you support OSX?
No OSX support
What is the shortest performer I can capture?
PN BODY STRAPS are fitted from 4'9" to 6'9"