Multiple transceivers can be attached to extend coverage or to add additional suits. The following article will help you setup your transceivers in either scenario.
NOTES
For distances greater than 10m between two or more transceivers a MASTER PTP TRANSCEIVER is needed to synchronize all the transceivers.
Environment plays a factor in multi-transceiver set up, in a noisy environment with numerous WIFI signals the distance between the two transceivers could be reduced to 7m.
If you require a MASTER PTP, please email us at contact@neuronmocap.com for an estimate.
Frequency Setup
When setting up an additional transceiver, you first need to review the channel you want the transceiver to work with.
If you are operating a single suit and are adding an additional transceiver, then you will then need to make sure the additional transceiver is on the same channel.
If the additional transceiver is to receive data for a second set of suits, make sure the transceiver and the second set of suits is setup on a separate channel.
Please review the following article on setting configuring frequency settings
Frequency Setting – PERCEPTION NEURON (neuronmocap.com)
IP SETUP
Perception Neuron Studio transceivers operate like a network card which can be attached to your computer via USB or ETHERNET. By default, the transceivers are not assigned an IP address.
IP address setup come as follows:
USB - Attaching the transceiver via USB and running Axis Studio. Axis Studio will assign the transceiver an IP address with the following script.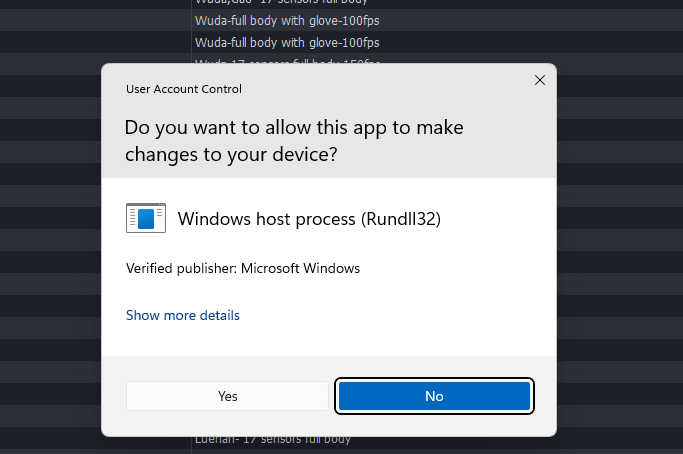 Result
The transceiver will be given an IP address from Axis Studio. This allows Axis Studio to communicate to the transceiver via the USB NDS protocol.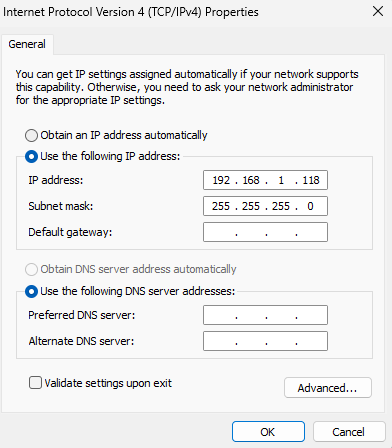 ETHERNET - When attaching the transceiver via ETHERNET, power will need to be provided. In this scenario, users will need to obtain a POE switch or a POE power injector. Please see recommended POE switch below this article.
It is important to note, the transceiver must NOT have a static IP address assigned to it. Users will need to attach the transceiver to a computer and confirm the IPV Properties are set to Automatic before connecting to an ETHERNET setup.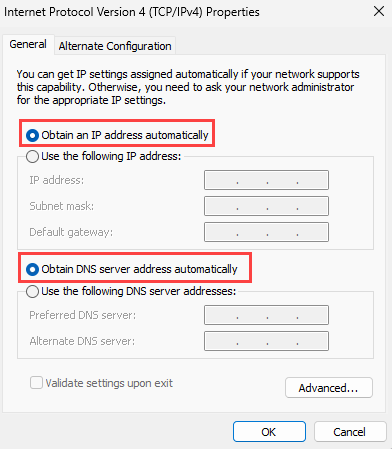 HARDWARE SETUP
Prerequisites
DHCP enabled router (Not included)
POE Switch (Not included)*
*PN TRANSCEIVER requires 1.5w
When operating more than one Perception Neuron Studio set, users must configure their transceiver to an ETHERNET configuration. This enables faster communication to Axis Studio for multi performer setup.
See diagram below: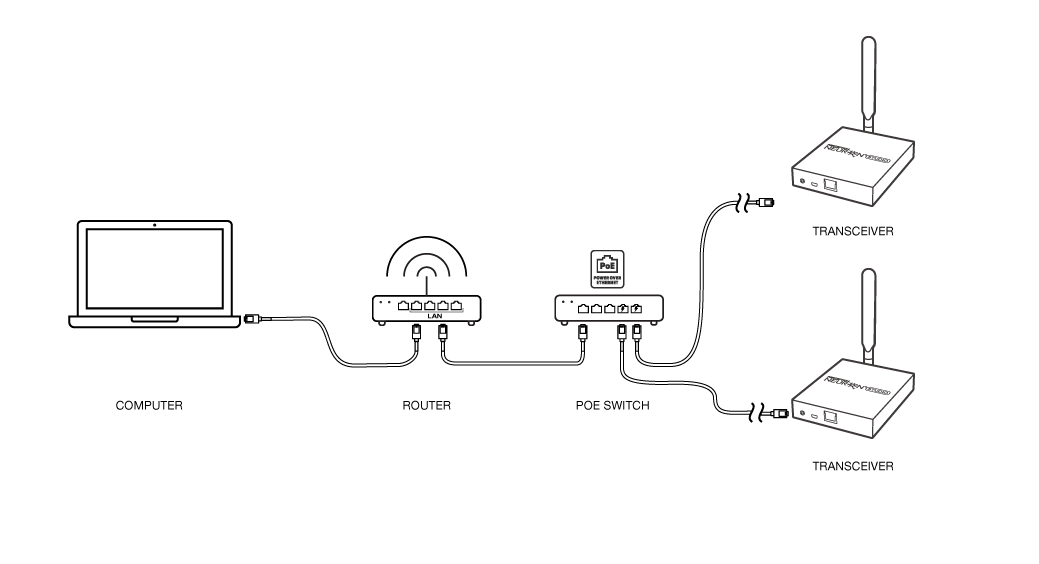 RECOMMENDED NETWORK HARDWARE
The following hardware has been tested by our offices. Generally, POE switch is suggested to provide at least 1.5W to the transceivers to power on. If you have another preference in POE switch, make sure the hardware supports POE and individual ports can provide at least 1.5W of power.
ROUTER
Provides DHCP to all networked devices.
Model : GL-A1300
Web link GL-A1300 / Slate Plus - GL.iNet (gl-inet.com)
POE SWITCH
Provides power to the transceiver via ethernet cable.
Model : POE-SW502
Web link: BV-Tech 4 Port PoE Switch - BV Security