AXIS STUDIO CONFIGURATION
Open Axis Studio
Click Main menu --> "settings" --> "BVH Broadcasting."

Enable "Advanced BVH".

Select "TCP".

Choose the correct "Local Address" and enter a valid net port.

Click "OK" to apply the settings.
Now that the settings are correct, open recorded data or connect a device. If you are playing recorded data, make sure to play it on loop.
Axis Neuron and Axis Neuron Pro Configuration
Open Axis Neuron
Click "File" --> "Settings"

Enable "Advanced BVH"

Make sure "TCP" is selected and that the serverport is correct.
Either have mocap equipment set up or have a recorded take on loop.
Maya Configuration
The first thing you need to do after opening Maya is load in the plugin.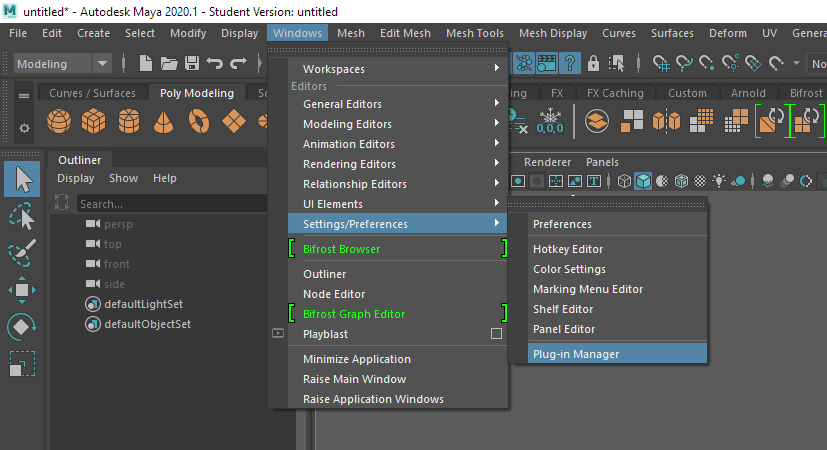 Go to "Windows" --> "Settings/Preferences" --> "Plug-in Manager."
Search for "noitom_perception_robo.mll" and click "Loaded".

To auto-load the plugin make sure to select "Auto Load"

Once the plugin is loaded, go to the toolbar and click "Neuron" --> "Mocap" to open the Neuron Mocap plugin window.
Input Axis Software's Host IP and port number to receive real-time data streaming from Axis Software.

Click "Initialize" and then " Create Skeleton". There will be a T-pose skeleton in the viewport window if your connection was established successfully.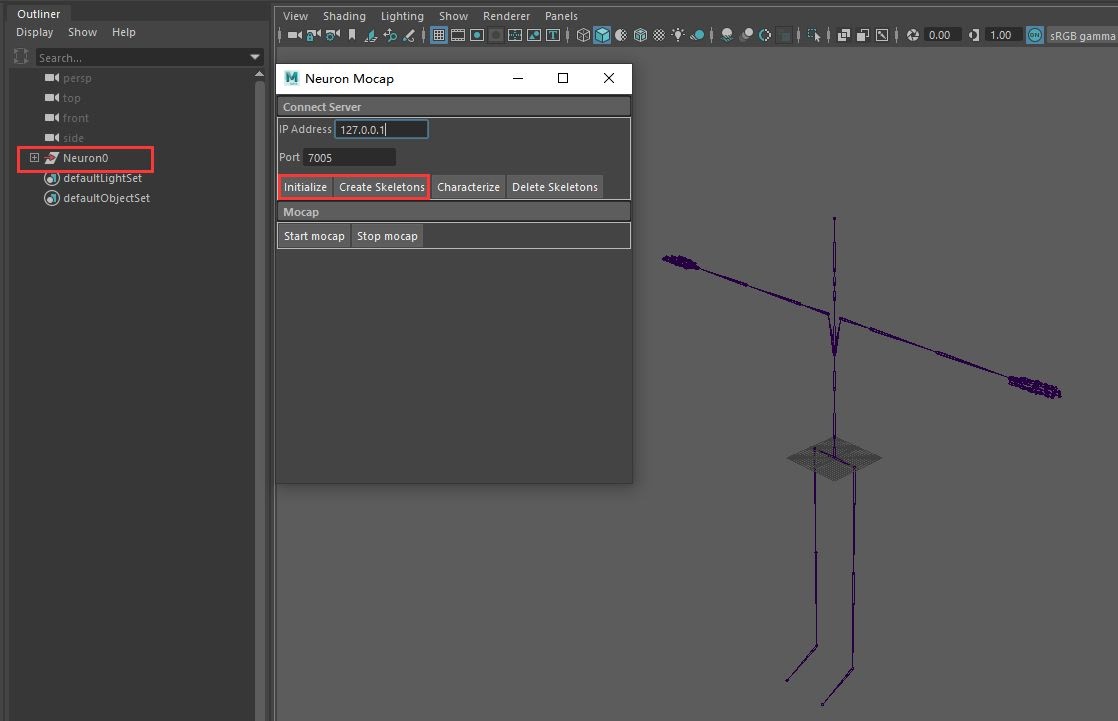 Click "Characterize" to characterize your skeleton.
Next, Import your model. If your character is not already set up with human IK, you will need to do that.
Characterize Character Model
Bring in your character model.
Make sure the character is in a T-pose.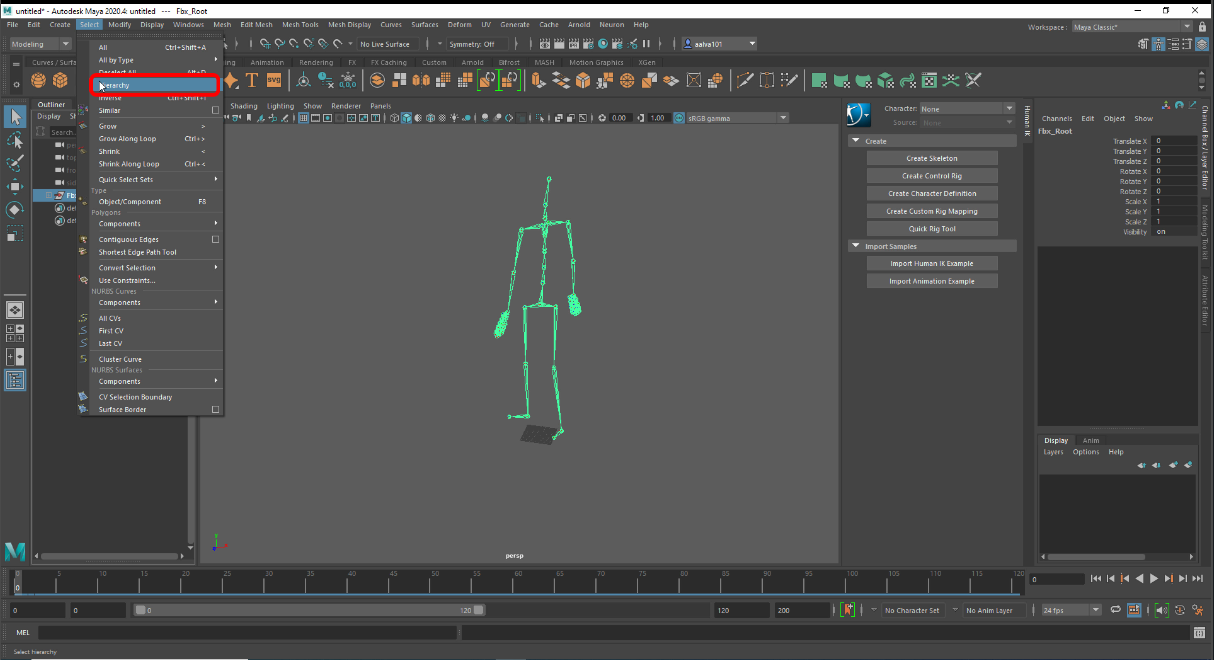 If the character is not in a perfect T-pose:
set timeline to frame 0

select the hips

go to select, hierarchy

set all the rotation values to zero.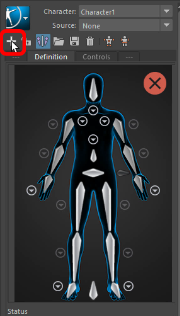 In the Human ik window, click the + sign.
If you are using a mixamo rig: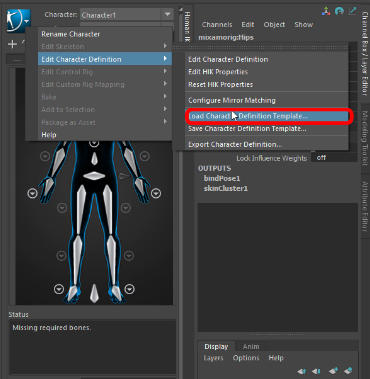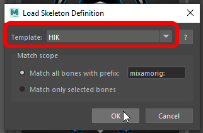 Select the character's hips.

Click the drop down menu in the blue box in the human IK window.

Go to edit skeleton definition.

Load skeleton definition.

Select HIK.
For other rigs, you will need to manually assign the bones
Once the character model is ready, go to the HumanIK window. Set the character to character model and the source to the mocap data.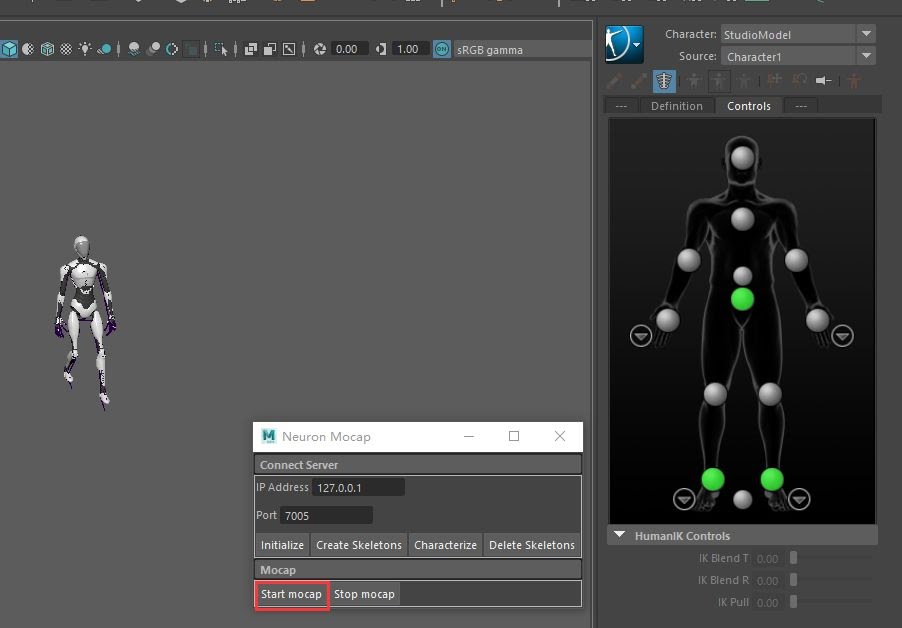 Click "Start mocap". Your model will be driven by your motion data. Click "Stop mocap" to stop.
Notes:
Here are a few things to keep in mind when using Maya live.
Multiple characters are not supported for now.

If you changed the skeleton's type in Axis Studio, you need to click the "Delete Skeleton" button and create a new skeleton.

You cannot record in Maya, streaming to Maya will just give you an idea of how the performance looks on your character model.