The Project Workspace is the first workspace visible when first opening up a project. Manage motion capture files in this workspace.

When reviewing the layout of the Project Workspace, there are two subcategories located on the left side, they are Body Dimension and Motion File.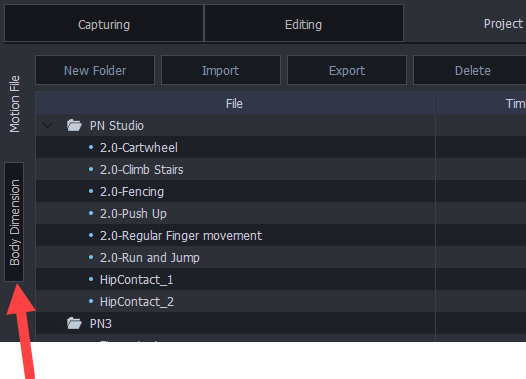 These panels represent the same folders located in the local project folder on your computer. See the following image showcasing the folders under the Sample Project folder.

Motion File
When selecting the Motion File tab, here you can view, select, and edit takes.
Features:
Rename/Delete your files directly.

Right click on the files to view options

Batch Export or Import captured data.
Create new folders to organize large amount of capture files in this project to optimize file management.
Batch Export
Batch export is only support through the Project Worksplace.
Select multiple takes and right-click to view options to select Export. Select Export

In the Export Settings window, toggle the takes you want to include in the Export. Update your File type and skeleton settings and choose Export.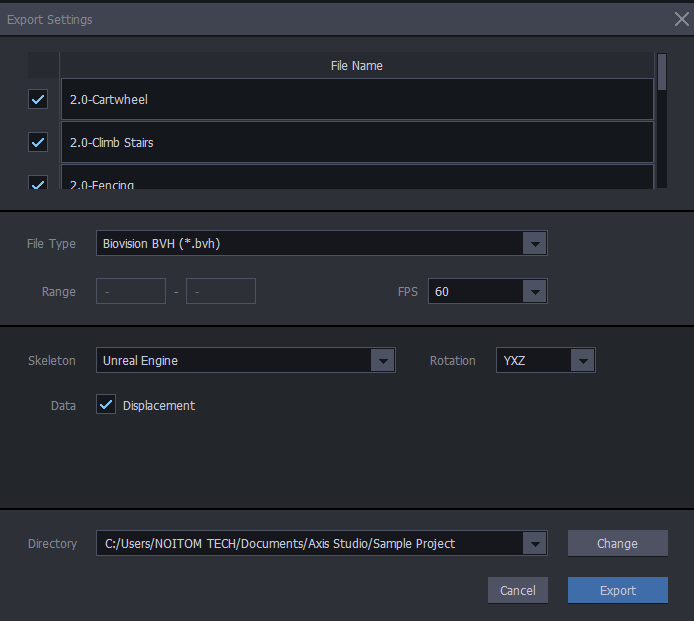 Body Dimension
The following window shows all the body dimensions included in the current project. Manage Body Dimension profiles that will be used in the working project.
You can Add and Delete a Body Dimension file.
You can Import and Export a Body Dimension file. Body Dimension file is an *. xml file which includes the body dimension name and length for each body segment. You can copy and paste the *. xml body dimension file to anywhere.