To access the Main Menu navigate towards the top right corner on Axis Studio and select the button with 3 horizontal lines. When the Main Menu is open, it should look as follows. Several selections may only be active when hardware is connected.
Overview
New Project: Create a new project.

Open Project: Open an existing project

Close Project: Close the project which is opened now.

Recent Project: A shortcut to find the lasted projects that you opened before.

Magnetic Calibration: Calibrate your sensors to resist magnetic interference.

Steady calibration: Calibrate the gyroscope of the sensor.

Frequency Setting: PNS supports 5 frequencies and PN3 supports 3 frequencies. If you are using more than one set PNS/PN3 at the same time, you need to make sure that these sets of PNS/PN3 are using different frequencies. Remember that PNS and PN3 cannot be used in the software at the same time even if using different frequencies. With multiple suits, they need to either all be PNS or all be PN3.

Firmware Upgrade: Upgrade your transceiver, sensors, and gloves.

Settings: Configure Data acquisition and real-time data broadcasting.

Working Mode Introduction: Introduce 6 working modes.

License Update: When you purchase the payment function, click here to input the activation code provided by Noitom company to activate your payment function.

About: Includes Axis Studio version, Calculation Engine Version, and Usage License.
Frequency Settings
When there are multiple PN3 or PN Studio devices being used together. Each suit must be on its own frequency. PN3 has 3 frequency options, PN Studio has 5 frequency options. You may also want to switch frequencies if you are having trouble with data signal quality.
Click Frequency Setting in the menu.
Check the quantity of connected sensors in the left corner of the popup window.
Turn on all the sensors, then click Connect.
You will see the sensors are shown in the left side.
Select the channel.
Click Switch, all sensor LED color should be changed accordingly, then check the connection sensor number in the left corner of the popup window, make sure it matches the actual sensor number you are using, then click Finish.
Firmware Upgrade


If the firmware is not the latest version, there will be prompted at the top of the software interface.
Click Upgrade, it will jump to the following interface, and if you click Firmware Upgrade in the Main Menu bar, it will also jump to the interface.
Click Upgrade, then you will upgrade the device.
Settings Menu
Advanced Settings
Control Joint space on/off, only works in editing mode.
Adv BVH Broadcasting
BVH used in Autodesk software is a special BVH format. If you use Autodesk series software, use Advanced BVH Broadcasting in Axis Studio.
Enable Capture if you are broadcasting live data and enable Edit if you are broadcasting recorded data
BVH Broadcasting
This is used when broadcasting data into most of our compatible 3rd party software.
Enable Capture if you are broadcasting live data and enable Edit if you are broadcasting recorded data
Skeleton
Adv BVH Broadcasting and BVH Broadcasting have a Skeleton selection drop down menu. This lists all the presets available when broadcasting to 3rd party software.
If you do not see a preset for the software you are broadcasting to, use the Axis Studio (Thumb open if you are using gloves) preset.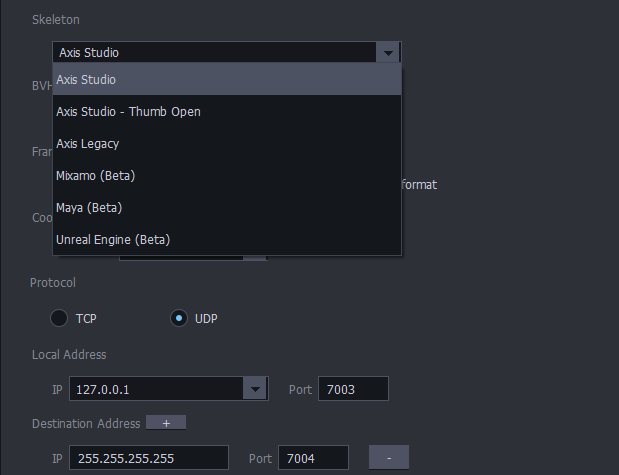 Device
Switch between Inertial and Hybrid modes if you are using Noitom VPS.
Select your Network.
Select your Frame Rate (PN Studio).
Language
Choose if you want the text to be in English or Mandarin Chinese
Shortcuts
This is where you can modify hotkeys
Working Mode
You can assign a different working mode to each channel.
There are 6 working modes, each one requires a different sensor configuration.