Axis Software Export
When exporting your motion data from your Axis Software, use processed bvh or Bio Vision bvh. Add a T pose to the head frame and enable displacement.
3dxchange
3dxchange is needed whenever you bring 3rd party assets into iClone.
Import your BVH file.

Make sure the timeline is on the first frame.

Click convert to non-standard.
In the dropdown menu, select Maya HumanIK, check active, and then check convert.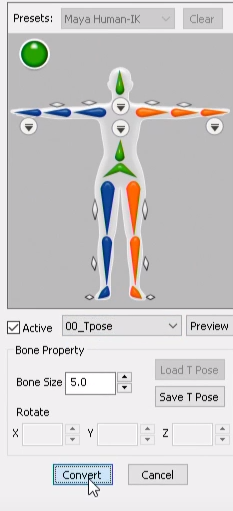 Now, we will move into iClone.
Setup in iClone
Have a character in your iClone scene. You can make one in character creator or convert a 3rd part character in 3dxchange. Make sure the character is selected and then go back to 3dxchange.
Click apply to iClone.
Go back into iClone and press play, the animation should play on your character.