Axis Software Setup for Unreal Engine
You have the option to either stream real-time data or playback data, so first, either get your mocap setup connected and ready to record, or put a pre-recorded take on loop. If you are using Axis Studio, you can do both at once.
Axis Neuron/Pro
In Axis Neuron or Axis Neuron Pro, go to File --> Settings --> Output Format and disable Displacement.
Go to Broadcasting and enable TCP or UDP, both are supported, there are just minor setup differences in the setup in unreal.
Enable BVH and select Binary format.
Axis Studio
In Axis Studio, go to Main Menu --> Settings --> Advanced Settings.
Turn off Joint Space.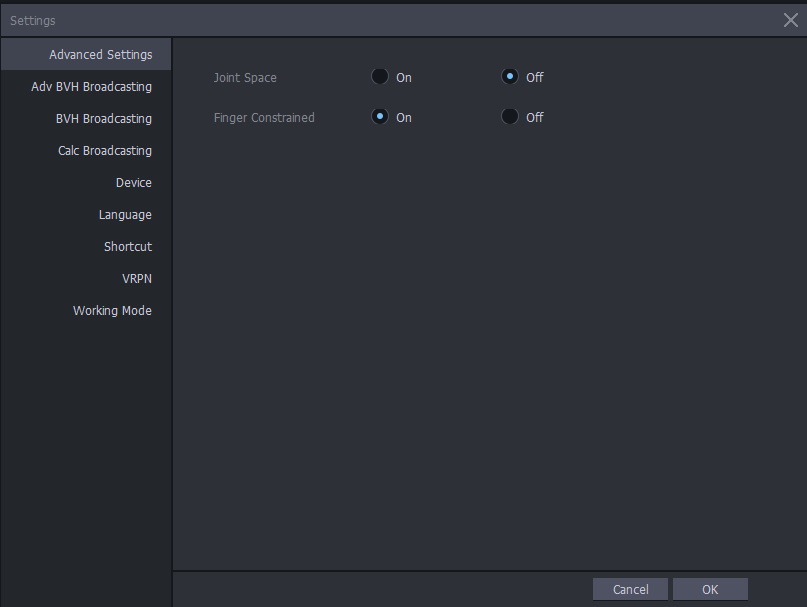 Next go to BVH Broadcasting.
Enable Capture, Edit, or both. Capture is for live data from your mocap suit and Edit is for pre-recorded data.
Uncheck Displacement and then select either TCP or UDP, both are supported, there are just minor setup differences in the setup in Unreal.
Select the Perception Neuron Studio Skeleton if you are broadcasting to a character in T - Pose (Thumb open version if you are recording with gloves). Select the Unreal preset if you are broadcasting to an Unreal character in A - pose.
With Axis Studio you can now stream single or multiple BVH data streams. If you are streaming both playback and real-time, you will need to assign the data streams to different port numbers. By default BVH - Edit streams to port 7001 and BVH - Capture streams to port 7003
Unreal Set Up
Install the Live Link Plugin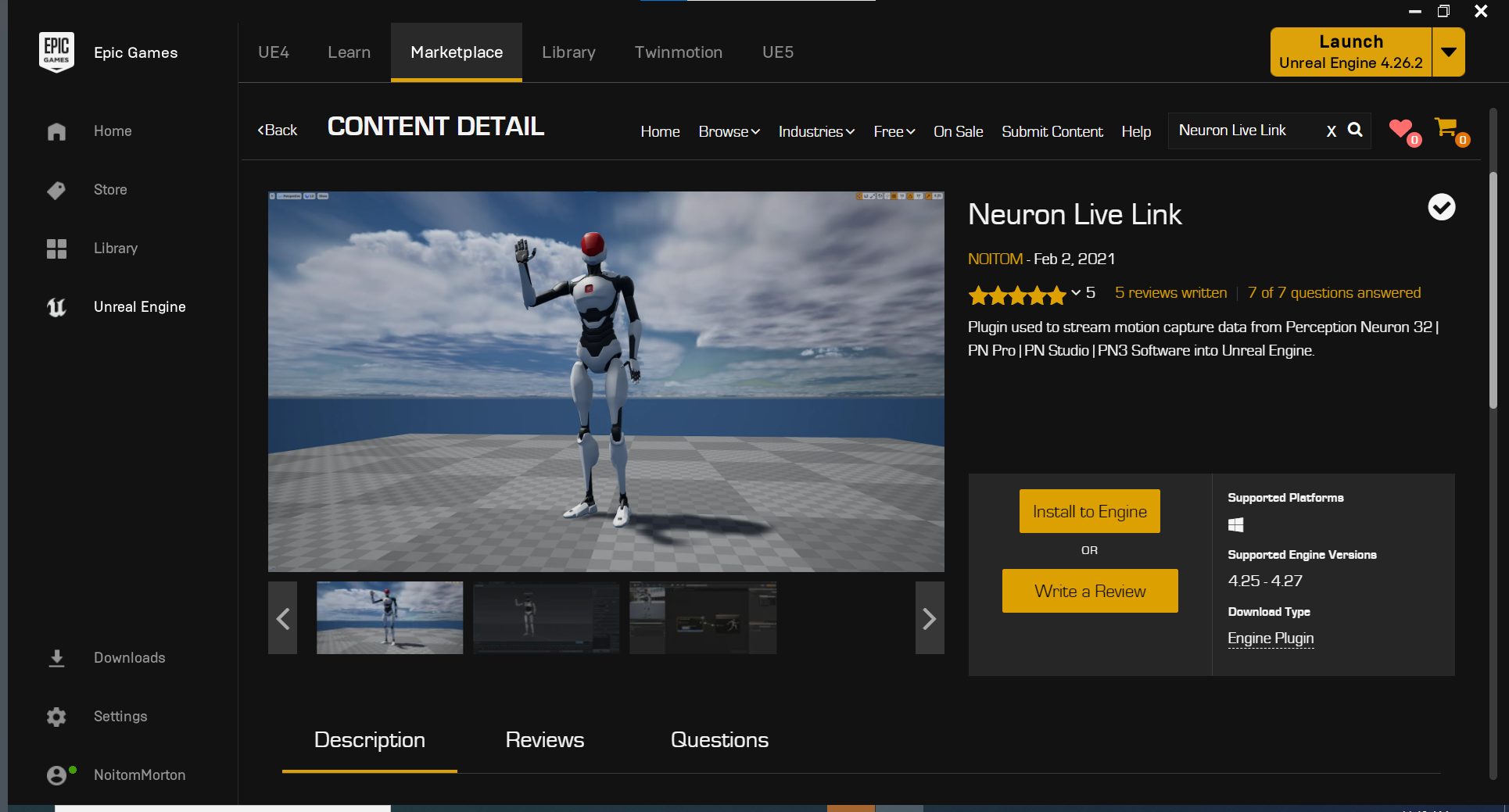 Search for the Neuron Live Link plugin in the Unreal Marketplace.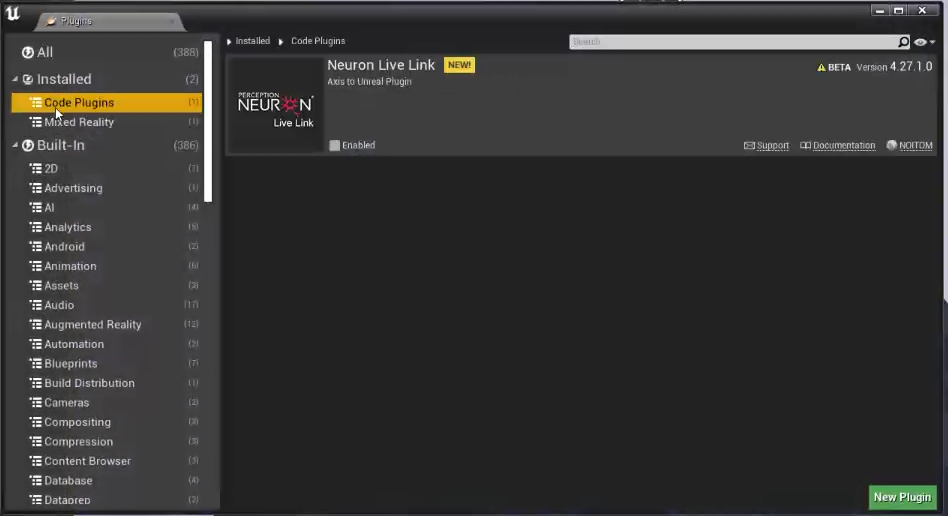 In your Unreal project, go to Windows --> Plugins, and enable the Neuron Live Link plugin.

In the bottom right corner of the Content Browser, click View Options. Then check, Show Engine Content and Show Plugin Content. Now you will be able to access content from the plugin such as the Noitom Robot skeletons.
Connect to Axis Studio via Live Link
In Unreal engine, Go to Windows → Live Link . Dock the Live Link panel.
Click Source --> Axis Neuron Live
If you are using UDP then change local address number to match Axis Studio and make sure the port numbers match.
If you are using TCP change the remote address to match Axis studio and uncheck Is UDP.
Data from Axis Studio should appear under Subject Name. That means the connection is successful.
Importing FBX Character Settings
Next, you can either use the Noitom Robot skeleton that comes with the plugin, the UE4 Mannequin, or import your own fbx character.
If you are importing a character:
Make sure Skeletal Mesh is enabled
Under Skeleton select none
Enable Use T0 as Reference Pose and Import Morph Targets
The import should create a few assets: Skeletal mesh which is the Magenta one and Skeleton which is the blue one are the ones required for live streaming.
Animation Blueprint for live sessions
Next, we need to make an Anim Blueprint to tell our character to use the Live Link data.
Right click the Skeleton or Skeletal Mesh
Select Create --> Anim Blueprint

Open the Animation Blueprint
In the blueprint space, create a Live Link Pose node and connect the out pin to the Output Pose input pin. Use the drop down menu to pick the Live Link Subject Name.
Select the Live Link Pose node and in the Details panel, select a Retarget Asset. Depending on what type of character you are using, different remaps will be needed.
Live Link Remap Asset is unreal's base class. Do not use this one with Axis.
The Manual Remap Asset is a custom character remap. You will need to open the GetRemappedboneName Function to modify it.
The Mixamo OLD Live link Remap works with Mixamo characters with "Mixamorig" Prefix.
The Neuron Remap drives characters with the Perception Neuron and Perception Neuron Pro Rigs.
The Studio Remap drives Characters with the Studio Skeleton and Mixamo Rigs without the "Mixamorig" prefix.
UE Mannequin Live Link Remap Asset drives CC3 characters and may work for other 3rd party characters.
After choosing a remap asset make sure to compile and save
Corrective T-Pose
With the latest Axis Studio update, this step is not necessary if you are using the UE4 Mannequin or another UE4 character in A-pose. Make sure to select the Unreal preset in Axis Studio instead.
If your character is not in a T-pose, correct it following these steps, otherwise, skip this section. Some software have their characters in A pose by default, but T-pose is necessary to retarget data from an Axis software.
Open the character skeleton that needs correction.

Use the skeleton tree to select the joints that need correcting to more closely match the Axis Skeleton.

Make sure to look at the T-pose from the front, top, and side to make sure it looks correct.
Once the desired pose is achieved, create an Animation Asset with the current pose.

Name the animation asset something memorable and save it in the same folder as the mesh and skeleton.

Add the corrective pose animation to the character's Anim Blueprint.
Connect it's output to the input of Live Link Pose.

Compile and save. This will update your animation blueprint.
Create Actor Blueprint Class for live sessions
Next, we are going to create an Actor Blueprint Class. Right click on the Content Browser and select Blueprint Class.
Select Actor and open the blueprint.
Click Add Component to add a Live Link Skeletal Animation Component and a Skeletal Mesh component.
Select the Skeletal Mesh component and in the Details panel, choose your character's Skeletal Mesh under Animation --> Mesh.
Now, just drag the Actor class into the scene.