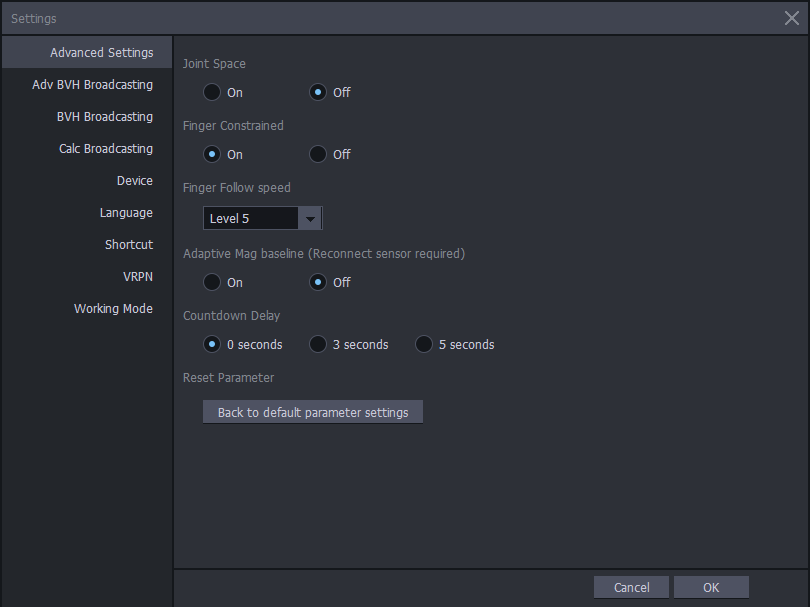 Joint Space: There are two underlying logics in the calculation of data processing: with and without gaps between the bones of the model. Most figures are applicable to data without joint space but correspondingly, it takes longer to process the data, maybe 3-5 minutes for a 1-minute length of data.
TIP: Calculating Data processing with Joint Space ON causes the avatar bones to have a rigid formation. When OFF, and data is processed, you'll note the avatar bone spacing has a squash and stretch affect.
Finger Constrained: On by default, causes the spacing of the fingers to lock in a lateral rotation. When OFF, fingers can spread naturally. This option is only accessible via licensing and for PN STUDIO kits with PN STUDIO GLOVES. Please contact support for request contact@neuronmocap.com
Finger Follow Speed: Controls the follow speed of the ring finger and pinky finger when using the PN3 gloves. Level 5 means that the ring and pinky fingers move at the same speed as the middle finger. Level 1 means that that ring and pinky fingers do not move at all. levels 2-4 means that the ring and pinky fingers lag behind the middle finger.
Adaptive Mag Baseline: Activates Auto Adaptive Mag Baseline (G function). Restarting Axis Studio will be required.
G-FUNCTION: New algorithm to reset magnetic baseline value on sensors based on the location at a given time.
Countdown Delay: Adjust the countdown delay for function such as
Resume Original Posture
Return to Origin
Record.
TIP: Enabling this option is ideal when operating the motion capture suit on your own
Reset Parameter:Sets the solver parameters to their default settings.